Nutritious Greek Dip: After School Snacks for Brighter Minds
Integrated Learning Strategies (ILS) is a learning and academic center. As a reminder, ILS is not a health care provider and none of our materials or services provide a diagnosis or treatment of a specific condition or learning challenge you may see in your child or student. If you seek a diagnosis or treatment for your child or student, please contact a trained professional who can provide an evaluation of the child.
Tasty, nutritious, and oh so easy to make greek dip! The perfect after school, before homework snack for the health conscious mama!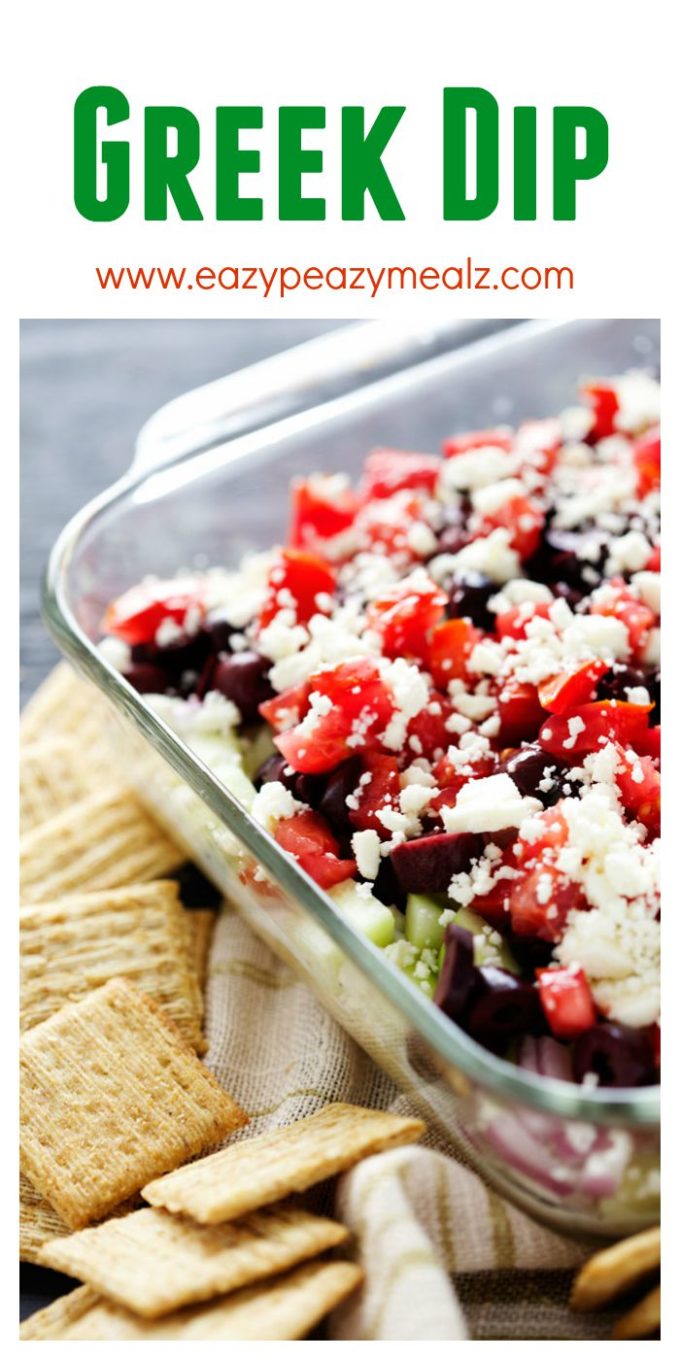 School is back in session, and one of the challenges we are facing is after school snacking! I don't know about you guys, but just coming up with a healthy lunch option is stretching my creativity pretty thin.
However, I don't want my kids eating after school snacks that are full of sugars and carbs, as these are not going to give them what they need to be their best while doing homework.
Nutritionally, the best after school snacks are going to have some protein, some calcium, some fiber, magnesium etc. and offer "good" calories that will fuel their activities and brain function but not come from food with little to no nutritional value, like the common packaged foods.
I know my kids love chips and crackers, as most kids do. So I decided a great compromise between the fairly unhealthy option of chips and crackers would be a healthy, protein packed, calcium rich, nutrient rich dip!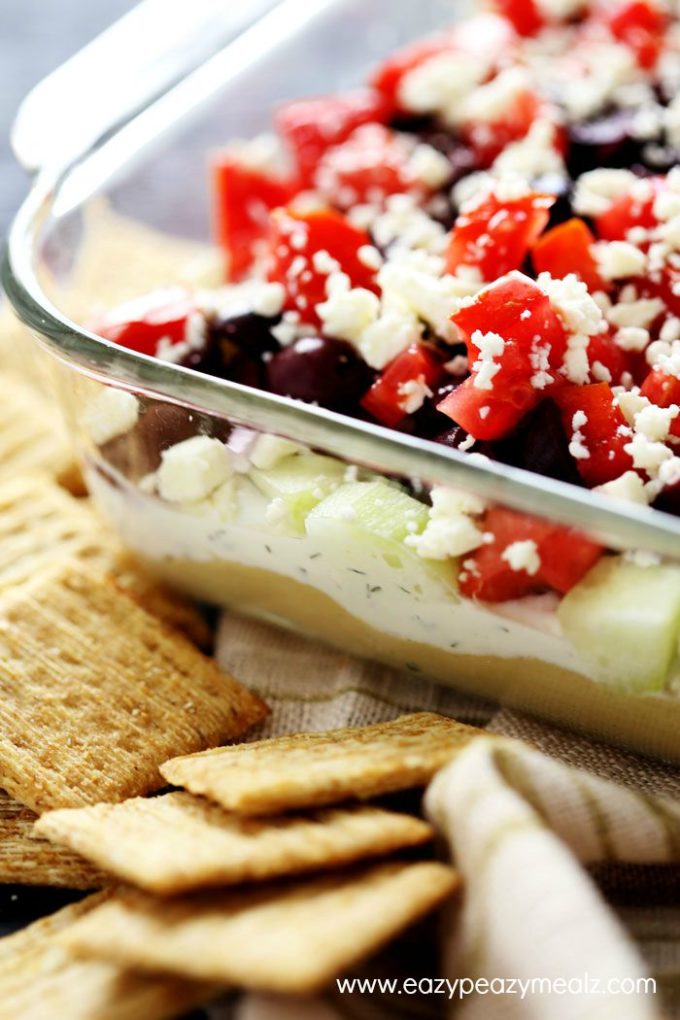 And so we have this tasty Greek Dip! It has a layer of hummus, a yogurt dill layer, fresh cucumbers, tomatoes, and Kalmata olives, and is then topped with a sprinkle of feta cheese.
The hummus offers protein and potassium and magnesium rich legumes. The greek yogurt dip offers calcium and protein. There are vitamins and minerals found in the vegetables, and fiber found in the Triscuit crackers used to eat the dip! Basically it is a great after school snack dip that kids and adults will love!
I absolutely love this dip personally, and my kids like it too! My picky eater was skeptical, but I told him he could pick off the kalmata olives, and then he ate it just fine! Which means it is a win all around. I even served it at a party with lots of other adults, and it got rave reviews.
Another fun idea with this dip is making it in smaller, portable containers for kids to take with their lunches for school. It can serve a double purpose.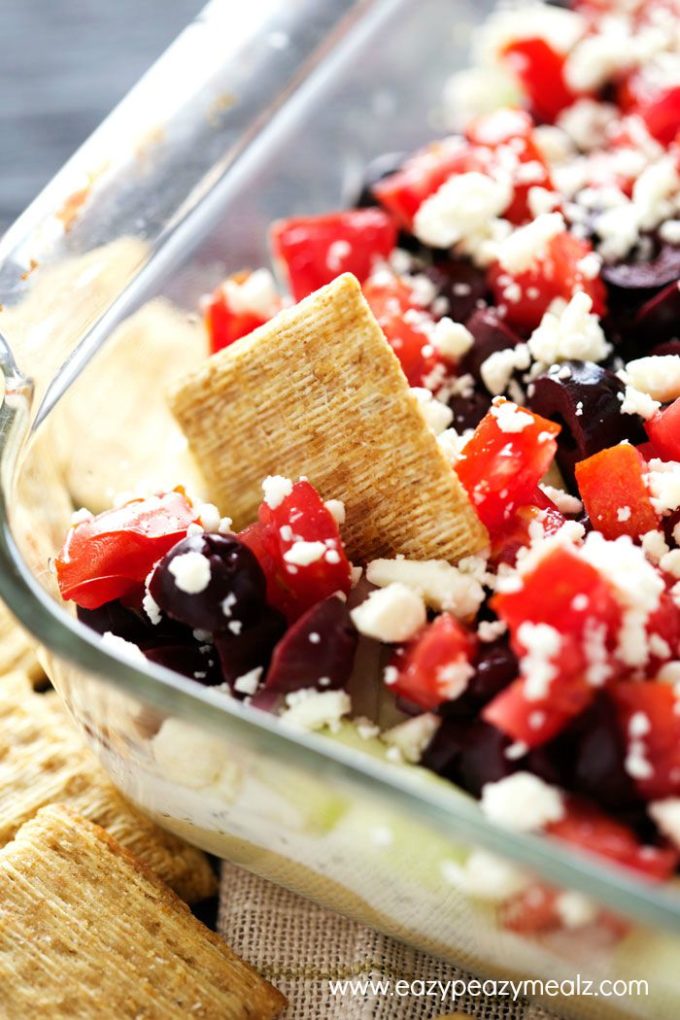 What you need:
10 ounces hummus
10 ounces plain greek yogurt
1 tbs lemon juice
1-2 tsp dill
1 tsp minced garlic
1 cucumber
1-2 roma tomatoes (depending on size)
½ cup kalmata olives, sliced
½ cup feta cheese
Whole Wheat Triscuits
Here's how you make it:
Buy a premade hummus, or make your own. I used Sabra Classic Hummus 10 ounce sized container, which is now gluten free, which is also fantastic for kids, especially kids with ADHD and/or autism, as some have found that it helps to reduce behavioral issues. Spoon the hummus into a 9×9 dish, and spread evenly on the bottom. If you love hummus, feel free to use more.
Then get a plain greek yogurt, you will need about 10 ounces, or 2 single serve containers, mix a tbs of lemon juice, a tsp of dill, and a tsp of minced garlic, into the yogurt, and stir. Then layer this on top of the hummus layer.
Peel and dice 1 cucumber and 1-2 roma tomatoes, and toss over the top.
Slice ½ cup of kalmata olives, and sprinkle over the top
Sprinkle feta cheese evenly over the whole thing. Refrigerate until ready to serve.
Serve with Whole Wheat Triscuit crackers.
---
Integrated Learning Strategies is a Utah-based center dedicated to helping mainstream children and children with learning challenges achieve academic success. Our services provide kids with non-traditional tutoring programs within the Davis County, Kaysville, Layton, Syracuse, Farmington, and Centerville areas. Areas to find Integrated Learning Strategies include: Reading tutors in Kaysville, Math tutors in Kaysville, Common Core Tutors in Kaysville, Tutors in Utah, Utah Tutoring Programs